Electric Magnet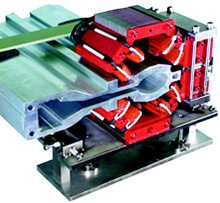 This magnet is for use in electron-accelerators weighing from just a few kgs to as much as 1,000 kgs. Several types has been developed such as deflection-type, 4-poles type, steering-type, or septum-type.
Photo shows a layer-built skewed 4-poles electric magnet used in a storagering of Spring-8 and is tailor-made to fit the relevant vacuum chamber. SPring-8 is reportedy the world largest radiation-beam R&D complex located in Hyogo, Japan.
Please do not hesitate to contact us regarding the pump selection.