Aerator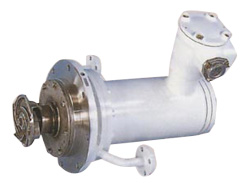 The "Teikoku Aerator" is a mixing and stirring device for promoting the gas-liquid contact reaction. By using a canned motor to supply fine bubbles of gas to a high-speed rotating impeller placed inside the liquid, the contact area of the gas-liquid is dramatically increased, the stagnation time of the gas is prolonged, and the efficiency of the reaction is improved. We also offer a micro-bubble aerator that generates micro-bubbles with a 10 to 20 µm diameter and the "PumpAerator", which merges the pump and aerator together.
| | |
| --- | --- |
| Application | Flue gas desulfurization equipment, removal of COD in wastewater, fermentation, neutralization, addition of various gaseous bodies |
| Specifications | Determined through consultation |
Please do not hesitate to contact us regarding the pump selection.